---

---

I'm a multi-disciplinary maker of useful, curious and beautiful things. (I just didn't like the word entrepreneur) Originally born in Indonesia, and raised in Palembang, I'm now lives and works in Bandung City.

I do appreciate, love & pursue the English language to acquire, develop and empowering my knowledge also specialty in these fields of study. I take every case thoroughly and seriously to aiming a professional achievement and preferable exposures. I see how people and events are connected; I am able to use my insight-fullness to approach to the heart of the matter issues.

My journey is a little different than most. I started my life-span development by entering a psychological school for children, my psychologist say i can't go to a nation or local based school, according to my special needs. At 10 years old i made a grand plans of becoming an Artisan, that could paint & do that

Leonardo Da-Vinci

thing.

After realizing, that i, quite frankly, sucked at it, I began teaching myself many skill at the age of 12. Fast forward a few years and through a whole lot of ass-busting, i am now is a designer, founder, speaker, mentor and maker.

After joining Lidhar & Associates, I had the privilege to develop products and services in a wide range of categories for companies such as Trans Tv & Local-based micro corporation such as Opus One Factory Outlet, Indigo Indonesia Family, AskIndigo, Blue Table, KOPABEKA & more.

My MBTI Personality is INFJ :

INFJ are typically wonderful listeners and deep, insightful thinkers when it comes to personal problems. I have a high degree of intuition about people and a deep well of patience in dealing with sticky emotional situations. All of these qualities make me talented, compassionate counselors, social service people, and compendious workers.

I did enjoy being involved in some sporting game & event, I play baseball and golf occasionally. I enjoy being active, staying fit, feeling well, and just being healthy. I enjoy being directly occurred into a modern lifestyle, getting know what's recently happening in worldwide trending, following their rhythm to discuss the latest information and talking about deep, interesting topics.

I love to laugh, doing cloud watching, playing piano, listening to jazz and doing some life-contemplation.



​Naufal Rangkuti
​Redefining Life - Maxima Fidelitas
Powered by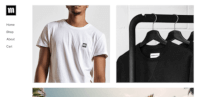 Create your own unique website with customizable templates.