This book written by Dale Carnegie is a classic. The title is cheesy but I read it already 3 times. It's a book everyone should read at least once. Ignore the title, or the fact that it's marketed as a self-help book, just get it and read it. (if you haven't already)
​

Marcus Aurelius is essentially everything you need to know about stoicism by one of the worlds greatest leaders & thinkers. If you're new to stoicism make sure to read the book to the left first. Meditations can seem a bit tedious if you're either unfamiliar with stoicism or not into it at all.
​

Another classic, but what I love about it is how simple and blunt it's written. The Alchemist seems to be loved by many people as everyone is able to interpret it in their own way. The story of the alchemist is simple but thought provoking. This book is about it.​
​

Achieving more by doing less is something I'm personally always interested in. In this book the author Greg McKeown guides you through examples on how to apply a more selective criteria for what is essential to us. This is a must read & a sure re-read.

A book written about why and how we make decisions based on our culture, religion or our general environment. As a designer myself it's critical to understand why and what influences other people to make decisions so we can design around it. A book packed with research & insights.
​

This is one of the most important books which had such a high impact on my life. Everything we do is driven by habits - We're creatures of habits and mastering them is the true secret to happiness. This book explores how habits work and affect our lives.

I'm a fan of biographies and Mastery is a collection of a dozen ones ranging from Charles Darwin, Benjamin Franklin, Albert Einstein to Leonard da Vinci. Robert Greene takes apart some of these success stories and tries to make sense of the myth behind becoming a true master.
​
​

Another one of my favorites by Malcolm Gladwell. Does having disadvantages actually make you stronger? Is it good to be big guy, or better to be the small one? Is it better to be a big fish in a small pond, or a small fish in a big pond? An inspiring & motivating read.
R E C C O M E N D A T I O N S M A D E W I T H ♥ B Y N A U F A L R A N G K U T I
Powered by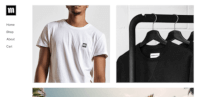 Create your own unique website with customizable templates.